BIT completes Citrix project
BIT completes huge infrastructure virtualization project
Baltic Information Technology as authorized Citrix partner in April 2009 finished big IT infrastructure virtualization project. Virtualization was made on Citrix XenServer and Citrix XenDesktop virtualization platform. In this project BIT sold licenses and delivered additional services like – IT infrastructure audit, demand description, virtual environment designing, installation and suggested recommendations. Also BIT delivered to customer employees education and certification on Citrix XenServer and XenDesktop platforms.
In this project BIT installed Citrix XenServer virtualization software on more than 25 physical blade servers.
Infrastructure after project:
Server virtual enviroment (XenServer)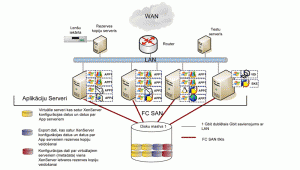 Desktop virtual environment (XenDesktop)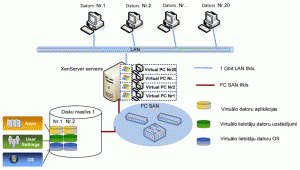 Gained benefits from Citrix XenServer:
Much faster server resource and networking (LAN, SAN) resource management and dynamic load balancing, possibility to hand out prioritized servers;
Faster establishment of test environment servers or getting image from production servers;
Higher server and application uptime, simplified high availability connection establishment;
Centralized hardware and virtual resource management;
Cost reduction on administration, maintenance and new server purchase/establishment.
Gained benefits from Citrix XenDesktop:
Centralized user data management in Data Center, higher security of user data;
New PC user creation is fast and easy in virtual environment by using virtual images;
Much faster data recovery in case of data loss;
Cost reduction on PC hardware because XenDesktop needs less resources;
Cost reduction on management and maintenance of PC pools.